Sloppy Dog fears no frozen precipitation. She ran around, snuck her snout in the snow, and pounced a lot.
It's a fine beach day if you are part Labrador Retreiver. She'll actually go into the ocean after swans in worse cold than this.
To be honest, this really isn't that bad... although we're only about 6 hours into it. The heavy snow bands are working their way over to the Cape, but the worst of it seems to be moving along the I-95 corridor.
We'll rely on my sister in Duxbury- who I can't get through to on the phone- to get us the ocean storm shots. This is Buttermilk Bay, and we don't even have waves.
A big part of a Blizzard is the loss of visibility. This is what they mean by that. You can usually see all the way across the harbor.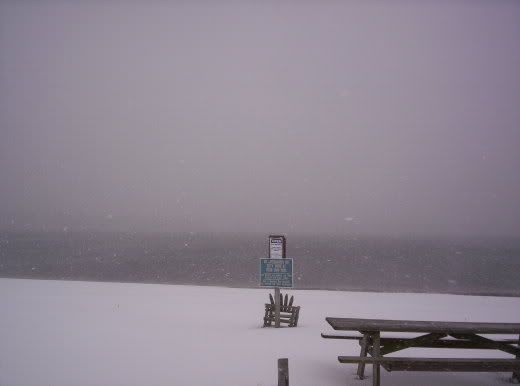 The same vantage point, in September: