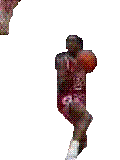 I missed the Daytona, although Gabby and Melissa enjoyed the Aquarium.
The dunk contest was one in a million, though. I enjoyed it totally, as did the worn-out Gabby and Lissa (who conked out on the couch halfway thru).
Now... I realize that two articles in one weekend about guys jumping up and down may be a lot to ask of my readers, but this was a whole bunch of fun.
Famous dunks of the past include Dr. J taking off from the free throw line (a 12 foot running long jump that requires one to be 10 feet in the air at the 12 foot mark, playground legend Helicopter grabbing a quarter off the top of the backboard, Shaq or Daryl Dawkins breaking the backboard, Vince Carter leaping and dunking over a 6'10" French player, a nameless man from the 1990s CBA doing a catwheel off two basketballs while dunking both... and my personal favorite- a guy jumping over a car to dunk.
This year, we saw:
- Dwight Howard- who has the best body in the NBA, and maybe all of professional sports (sorry... I'm a girl)- threw the ball off the backboard, jumped up, caught it, and dunked it from behind the backboard...while smiling through the glass at the camera.
- Gerald Green (a former Celtic,and last year's winner) had a teammate place a birthday cupcake on the rim...and light the candle. Green then jumped into the air, caught a pass from a teammate, blew out the candle, and did a sick dunk.
- Jamario Moon- a former Harlem Globetrotter- was actually boring with his switching-the-ball-from-left-to-right-in-midair windmill.
- Rudy Gay- who took the innovative step of asking YouTube visitors (YouTube - Rudy Gay's Slam Dunk Promotion) to suggest and upload film of dunks for him... he came in last.
That was just round one.
Round two saw the former Globetrotter (Moon) try to break the Dr. J/Jordan distance record (dunking from about 6 inches within the free throw line), with the added twist of catching a pass from a teammate. The distance proved to be too much, though... and his second try came from the more Jordanesque just-inside-the-free-throw-line distance.
Gerald Green had some poor soul sit on top of a ladder and hand him the ball in mid-air for a windmill.
Dwight Howard then replicated the Moon dunk... but, before doing so, he pulled off his jersey to reveal a Superman shirt...then a cheerleader came out and put a big red cape on him... and Howard- who is 6'11"- absolutely crushed the dunk. As impressive as the cupcake dunk was... this one won the contest.
Judge for yourself...
YouTube - 2008 NBA Slam Dunk Contest Part 01
YouTube - 2008 NBA Slam Dunk Contest Part 02
The winner was Dwight Howard, and his eff-me-now-please shoulders.