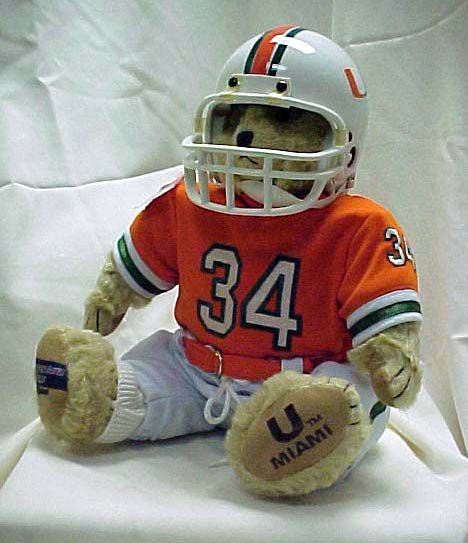 Putfile - 7th Floor Crew by the University of Miami Football Team...
NC-17, it's essentially a gang rape to a bad Dre beat. You'll want to wash your speakers after.
"You don't wanna test these pimp ass niggaz unless- you want your wig split."
Regardless, it's good to see that UMiami has a new fight song. This title refers to the floor of their dorm or the jail they'll be in.
It's just 13th grade, as we say in the MA.
"Throw her legs up, and put her in the Buck"
1. WHAT COLOR ARE YOUR KITCHEN PLATES? white, with roses and gold trim. They effin' rock.
2. WHAT BOOK ARE YOU READING? Restrictor Plate This, by Jerry, The Dieast Dude
3. WHAT IS ON YOUR MOUSE PAD? some chron flakes
4. FAVORITE BOARD GAME? Betting
5. LEAST FAVORITE SMELL? cabbage
6. WHAT IS THE FIRST THING YOU THINK OF WHEN YOU GET UP IN THE MORNING? Wake up in the mornin, got the yearnin' for herb
7. FAVORITE COLOR? Blue
8. LEAST FAVORITE COLOR? that green that the AOL banner uses
9. HOW MANY RINGS UNTIL YOU ANSWER THE PHONE? Caller ID, then it depends on the caller

10 FUTURE CHILD'S NAME? God Damn
11. CHOCOLATE OR VANILLA? chocolate AND vanilla
12. DO YOU LIKE TO DRIVE FAST? One does not drive fast... one drives "faster."
13. DO YOU SLEEP WITH A STUFFED ANIMAL? in a sense
14. DO YOU LIKE THUNDER STORMS? they rule
15. WHAT WAS YOUR FIRST CAR? 1986 Nissan Sentra, I could go from Duxbury to Nashua for $2
16. WHAT ARE YOU DRIVING NOW? 2004 Jeep Grand Cherokee
17. WHAT IS YOUR SIGN? Stay Off The Grass
18. DO YOU EAT THE STEMS OF BROCCOLI? I actually don't eat the other part.
19. IF YOU COULD HAVE ANY JOB, WHAT WOULD IT BE? UMiami RA
20. IF YOU COULD HAVE ANY COLOR HAIR, WHAT WOULD IT BE? Gold
21. IS THE GLASS HALF FULL, OR HALF EMPTY? "Soon-to-be-filled"
22. FAVORITE MOVIE? Scarface
23. DO YOU TYPE WITH YOUR FINGERS ON THE RIGHT KEYS? I have my own thing going on

24. WHAT'S UNDER YOUR BED? the floor
25. WHAT IS YOUR FAVORITE NUMBER? 4
26. FAVORITE SPORTS TO WATCH? on TV, football.... in person, hockey
27. YOUR SINGLE BIGGEST INTENSE PAIN? broken leg
28. PERSON MOST LIKELY TO RESPOND? God only knows
29. PERSON LEAST LIKELY TO RESPOND TO THIS ENTRY? Nat
30. KETCHUP OR MUSTARD? while the sandwich could have either, the fries will need ketchup
31. HAMBURGER OR HOT DOGS? I won't eat a hot dog
32. WHAT IS YOUR FAVORITE SEASON? Fall
33. THE BEST PLACES THAT YOU HAVE EVER BEEN? The Seventh Floor of the UMiami athlete dorms
34. WHAT BACKGROUND IS ON YOUR COMPUTER RIGHT NOW? this:
35. FAVORITE FAST FOOD? linguica pizza