"I love war," wrote Gen. Phillip Kearney. "It brings me an indescribable pleasure, like that of taking a woman." If the feisty Army of the Potomac leader were alive today, he'd probably be keeping an eye on Cleveland, Jersey, Memphis and Minny.
Those four teams are locked into battle over the remaining NBA playoff spots. Each conference has an 8th and 9th seed, and there are benefits to being number 8. They make the playoffs, while the other bunch has an early summer. While the Emekas and Eltons of the world can relax a bit, it means the end of the paydays for a lot of benchwarmers on teams with high draft picks.
They will fight the coming of Summer with every resource at their disposal. Kevin Garnett fights to maintain his status as an impact player. Lebron fights to escape the malaise his team is suffering. Vince Carter is fighting to redeem his good name.
The playoffs have already started for New Jersey and Minnesota. They simply can't afford to lose. They chase Cleveland and Memphis for the final conference playoff spot with losses they still need to overcome.
Consider this week to be a sort of Wild Card series with really tall guys. Here's how the matchups break down:
Cleveland vs New Jersey-
Cleveland has the edge, and must back out of the playoff picture in a manner that will leave 20 year old Lebron James with a choker rep that Bill Buckner would laugh at. Cleveland was playing for the division title before the bottom fell out about 20 games ago. Paul Silas was shown the door, and it's been night after night of Ls for the burgundy-clad giants of Drewcareystan.
Cleveland is 40-39, and in a dogfight with Detroit as I type this. If Lebron were older, he'd know that he is in the Driver's Seat. New Jersey is is 39-40, with Mr. Iverson and the gang awaiting them after they let Brunch settle.
Cleveland has Boston and Toronto remaining. Joy-zee has Washington and the suddenly very influential Boston Celtics on their schedule. The Cavs get the Celtics in Ohio after mutual two day rests, while Jersey plays them in Boston the following night.
Cleveland has been in free fall, but would make a dangerous playoff opponent. James can score at will, and Cleveland is currently letting him jack up 27 shots a game over the last 5. He hurled 28 up in 3 quarters today, and only an ugly collision may keep him from cracking a 40. Look for that to be the pattern against whoever Cleve draws in the Dance.
Jersey has been riding Vince Carter, who has been throwing in 30 a game for most of April. If they make the playoffs, if Jefferson returns, if they can outgun Shaq....Ifs all around for the Brooklyn Nets.
At least Vince is out of Canada. He's a whole new man, like we in Boston say about Ricky Buckets. No more scuffling with the coach. No more bad passes from Skip To My Lou. No more giving Seattle's bench the Raptor plays. No more dogging it like a schnauzer. Vince is playing like a guy who has to win every game to make the Playoffs....which he essentially is.
Jersey has a fun future. If they keep Kidd, they will run some amazing fast breaks whith VC and Jeff on the wings. They have some draft picks to play with, and things don't look as dark as they did when they dumped K-Mart- and in doing so, upset Jason Kidd so badly that his wife would wash the dishes like three or four times.
Look for maximum effort from all parties when the Nets go to Washington and try to take the Wiz.
Detroit 90, Cleveland 87. The Collapse continues....even the Great have to pay dues, Lebron.
Memphis vs Minnesota
One out of nine people still think the Grizzlies (44-36) play in Canada, where they actually have grizzlies. They don't get a lot of respect. Their coach was the former TV analyst, while their ex-coach is the current TV analyst. Before that, they were both TV analysts. If the Tsar dies, maybe Barkley will finally get his chance.
People say, "I thought you were in jail..." a lot to Jason Williams, and those who do recognize him mostly ask him what Randy Moss was like in high school. While there is no "L" in Pau Gaol, there should be an extra "I". The man is injured like few others, and Jeb Bush may try to take custody of him if he keeps pulling hamstrings and stuff.
The Griz do have one thing that All-World Kevin Garnett doesn't have....the elusive eigth playoff spot in the West. KG hasn't strangled Spree yet, but he is proof of just how far you can ride one man in today's NBA.
Minnesota (42-37) was the top team in the West last year, but the bottom fell out of McHale's Navy this year. No one wants to start the playoffs with a series against the freakishly talented KG, but he is on the wrong end of the W-L equation with Memphis, and he has but 3 games left to be meeting Kobe and the Senorita in Bali on April 22nd.
Minnesota needs to rebuild. Look at it like they already had the bad year, and they got KG. Now, they need to fill the other 11 spots with people who can actually play.
The Boston Marathon
Every Patriot's Day, the Boston Marathon comes to Massachusetts. It starts in the wee town of Hopkinton, winds through the Naticks and Wellesleys of the world- essentially mirroring the Massachusetts Turnpike- and ends beneath the towering Prudential Building. People get all worked up for it, but I could give a hoot.
I'm just glad that it doesn't run through Monponsett. I'd be too tempted to spill gallons of Wesson Oil on a main drag, then sit there with a few friends and a stack of numbered cards for when the Slipping started:
"...and the French judge gives Ntambo a 7.8 for his austere triple gainer into the O'Hearn's rhododendron..."
My idea of a race was the late Gurnet Classic Beach Run that used to go 6 miles on Duxbury Beach every summer. Many of the best runners (including Boston Marathon winners Bill Rogers and Alberto Salazar) ran right by my house in Duxbury.
We used to have these two drunks- Tommy Leonard's personal emissaries from The Eliot Lounge - who would sit in front of my house every year and get heavy into the Crunk Juice. They used to shout, "Epic " a lot when the races got good...and the races got better and better every beer.
The Boston suburbs on the Marathon route aren't the kind of places for good, large-scale public drinking. It's also held on a Monday morning, which puts all but the most serious drinkers off their game.
Some Ethiopian usually wins it, and the two finishes people still talk about around here concern some German girl (Utta Pippig?) defecating all over herself, and Rosie Ruiz riding the subway to a shady win in the 1980s.
If you go to it in person, you are stuck in traffic all day while streams of sweaty people run by you. Short of being in Boston as two runners (or rollers...a sprint to the finish would look cooler if it were between two of the wheelchair racers) have it out over the last quarter mile, it is hardly more entertaining than shopping.
Famous Wives of Athletes
Halle Berry-Justice.
He is Berry, Berry sorry that he screwed up THAT marriage.....or DJ is so cool that he told an Oscar winner to hit the bricks? This marriage missed Catwoman and Bat-Man status by a decade.
Marilyn Monroe-DiMaggio-
Joe took it altar-style to Norma Jean. He called it his 3,000th hit.
Vanessa Williams-Fox
My grandmother used to think the world of "Brick" Fox. "What nice teeth he has," she used to exclaim. I think the media outlets my grand-mere frequented tended to not discuss the marriage to the shamed Penthouse girl.
Victoria Adams-Beckham
The Becker landed the hottest Spice Girl. If he and Nomar traded wives, the brood might win a World Cup by it's own damn self....and Nomar would have the hotter wife.
Left-Eye Rison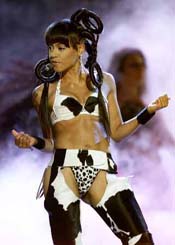 She was taken from us too soon, this crib-torching freak of a dead R+B singer. If she's in Hell, it's quite possible that she's running the place. If Andre Rison is the reasonable one in a marriage, the marriage is an ugly one.
Carmen Electra-Rodman
I lost a $500 bet when police reports revealed that SHE was the one who assaulted HIM.
Janet Jones-Gretzky
As Bobcat Goldthwait said, they made Police Academy V because there were too many unanswered questions left after Police Academy IV.
Mia Hamm-Garciaparra
If she kicks Nomar in the Nogads, he'll be caved in through 2017.
Robin Givens-Tyson
She gets points for just surviving the Honeymoon.