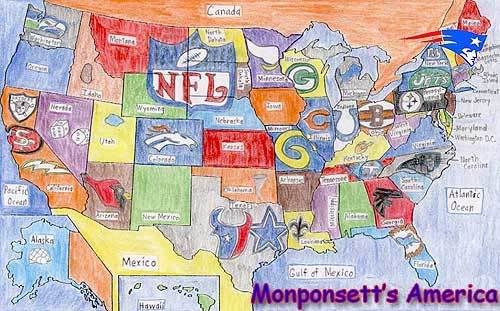 77-38
Arizona at St. Louis
The Arizona Cardinals used to be the St. Louis Cardinals until somebody didn't build somebody else a domed stadium in time, or something. St. Louis then did the honorable thing and stole the Rams from LA, who seemingly can't support a team because either Mexicans don't like the NFL or the traffic is too bad.
In a perfect world, St. Louis would get to be the Cardinals again, and Arizona could be the Scorpions or the Gunfighters or the Canyons or the Stumbling Indian Drunks or the Dehydrated Border Crossers. LA would then be free to take the Rams back, or perhaps go for something like the Bloods or the Crack.
We don't live in a perfect world. St. Louis will just have to settle for injuring the quarterback.
St. Louis, 24-20
Atlanta at Washington
Washington really pulled it together last week to kick the snit out of the Carolina Pants, so look for them to get stomped by the troubled Falcons... because it's been That Kind Of Year for the fans of the Redskins.
Atlanta, 27-18
Indianapolis at Tennessee
Not that things ever work out like I want them to... but I hate Peyton Manning, and Tenny just reinstated the guy who was suspended for stomping on an opponent's face.
But, no...
Indy, 37-17
Kansas City at Cleveland
Nothing like December in the NFL when your team sucks... especially when you live in Cleveland.
KC, 24-14
Minnesota at Chicago
Chicago looked like world-beaters until your New England Patriots beat them like lazy serfs last week. They should be able to beat Miny... who the Pats also stomped.
Chicago, 17-10
New York Jets at Green Bay
A rare battle of green teams. Green is much in the Love Deficit when modern team colors are discussed. Green Bay is greener, but that should have little or no effect on the outcome of this game.
NYJ, 14-13
San Diego at Buffalo
It's been a soft winter in Buffalo this year... they only had one 3 foot blizzard in October.
San Diego, 34-20
San Francisco at New Orleans
Look for Chocolate City to put a Category 5 ass-whipping on the San Francisco treat.
New Orleans, 17-13
Houston at Oakland
If this was college football, this would be the Both Teams Suck Bowl. Houston sucks less.
Whoston, 9-7
Jacksonville at Miami
Jacksonville is sort of one of those Second City types... big enough to have an NFL team, but small enough that they could never feasibly have CSI: Jacksonville because people would be like "How many people get murdered in Jacksonville??"
Jacksonville, 17-15
Dallas at New York Giants
Peyton's little brother doesn't even wait for the playoffs to start f***ing up.... lol
Dallas, 17-16
Tampa Bay at Pittsburgh
Here are your last two non-Patriot teams that won a Super Bowl... both of them hopelessly out of the playoff hunt, with the luck to end up losing out on the Pennsylvania/Florida decision on who'd host the December game.
Pittsburgh, 12-10
Seattle at Denver
Denver benched QB Jake Plummer for Jay Cutler, who is supposed to be some kind of phenom. I never liked Denva, so here's to the possibility of the Rook getting head-slapped by whoever the meanest guy on Seattle's defense is.
Denver, 21-19
Carolina at Philly
Philly's chances are as strong as Donovan McNabb's knee... which, unfortunately, is fresh out of surgery. Looks like T.O. wins again, folks.
The Pants, 21-3
Detroit at New England
Besides being an annual Detroit tradition of fan protest regarding failed General Manager Matt Millen, the term "Millen Man March" has also come to symbolize the period in the game where- following an interception/enemy touchdown/fumbled punt that dooms the Lions to loss for yet another week- Detroit fans begin to head for the exits in droves.
New England, 31-10