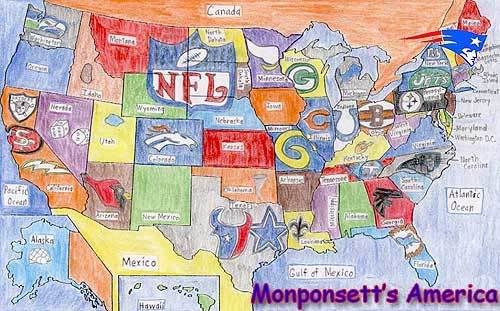 Ahhhhhhhhh... Sunday. A Day of rest, a holy day, the Lord's Sabbath, a day for a big family dinner, maybe a Sunday drive....
Nah... eff all that. It's time to loadup on booze and food that can beeaten on a couch, and watch 22 300 pound guys beat the snit out of each other. People who were crying for jail time after last night's Knicks/Nuggets brawl will be perfectly happy watching 50 times the violence today.
When the bodies collide, someone wins and loses... unless there's a tie. It's our job here at High ABove Courtside to tell you who will do what. I'm using Bodog.net's odds, unless it's Bodog.com's odds...I sort of came across the information second hand, but it's the one with that Calvin Ayre dude.
Let's get down to it:
Cleveland at Baltimore (-12.5)
Romeo Crennel deserves better than the L he's going to take today. I'll give him Beating The Spread as a nice early Christmas gift.
Baltimore, 21-12
Detroit at Green Bay (-6)
Conversely, Matt Millen deserves what he gets.
Green Bay, 17-7
Jacksonville (-3.5) at Tennessee
Resurgent Tennessee is on a roll, but Jacksonville is fresh off whipping Indy. I like their Current Holistic Dynamic better.
Jacksonville, 21-17
Miami at Buffalo (-1)
I don't buy that spread, even for a home dog. Miami beat the snit out of us last week, and they'll surely do the same to Buffy. Kudos to the guy at NFL scheduling who looked at a Buffalo/Miami game in December and thought... "Hmmm... upstate New York should host that." What a cruel bastahhhd.
Miami, 24-7
New York at Minnesota (-2.5)
The page I'm on doesn't specify if it's the Jets or the Giants(there may also be a few Wrongs involving who's hosting the games,but the odds should still work), and I'm afraid to hit NFL.com because it might make all the writing I did here go away. Stuff like that happens to me a lot, and I like to blame either Cape Wind, Bush, the Jews,or Kobe Bryant when it does. I'll go with "either New York team" to win this one.
NY__ , 14-13
Pittsburgh (-2.5) at Carolina
Carol beats the Pant(ther)s off of the Ben Stillers.
Carol, 24-10
Tampa Bay at Chicago (-13)
I don't think Chicago is that good,and Tampa isn't that bad... well, maybe they are.
Chicago, 34-10
Washington at New Orleans (-7)
San Diego told Drew Brees, "We'd rather play some semi-rookie than pay you a fortune. See ya!" I'm hoping for a San Diego/New Orleans Super Bowl, if I can't see my beloved pats up in there.
New Orleans, 17-14
Denver at Arizona (-3)
Eff that spread. Denver will beat Arizona like Arizona said something about their mother.
Denver, 31-13
Philthydelphia at NY(-6)
Losing to Philthy at this point most likely will cost a coach his job.
NY, 21-10
St. Louis (-2) at Oakland
Oakland sucks like Heidi Fleiss... well, frequently, and for high dollars. "Sucks well" = "plays poorly."
Slewy, 24-14
KC at San Diego (-9)
Sandy's due to lose one, but I'll only put my (husband's) hard-earned cash on them not covering.
San Diego, 28-21
Cincy at Indy (-3)
This looked like an AFC title game before Cincy started bitting the shed and Indy fell apart in the cold weather yet again. Still looks like the game of the week.
Indy, 37-30
Houston at New England (-12)
We'll play down to the competition, and win a low scoring yawner. I see one and out for the Pats this year in the playoffs with my gut, but I see an era-defining Super Bowl win in my heart.
New England, 21-17